Every year, there are a few truly disruptive companies, either because they change the business model, or they are more integrated, or they are open source, or they are just free.
These companies tend to get a lot of investment because they are supposed to change the game. I have selected a list of companies that I follow.
This is the list of the Top SAAS Platforms of 2023:
Ramp
Equals
Merge
PostHog
Column
Codat
Update (14-08-2023):
Ramp
Ramp is trying to change the credit card industry and expand management by creating the most advanced, customizable, and programmable SAAS platform.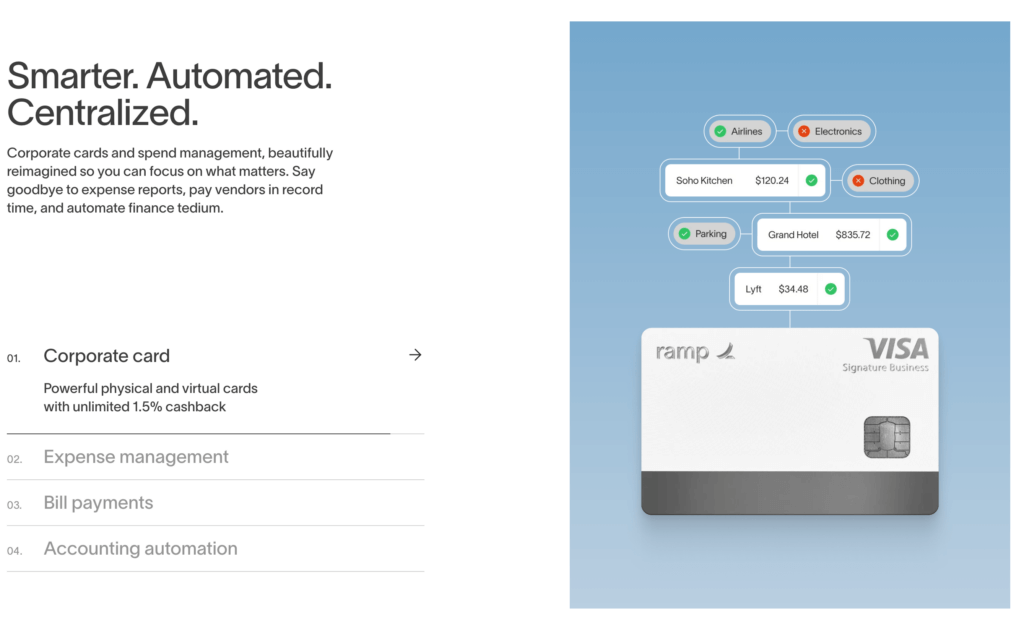 Control spending with the only card in the market precisely enough to block a single merchant or an entire category.
Get receipts in under 30 minutes with an expense process so easy to do, everyone will do it.
Harness hyper-accurate AI to process hundreds of invoices in seconds, and pay your vendors via card, ACH, or check.
Close your books on time monthly with powerful automation and accurate, reliable data that stands up to any audit.
Visit ramp.com
Equals
Equals is the only spreadsheet with built-in connections to any database, versioning, and collaboration.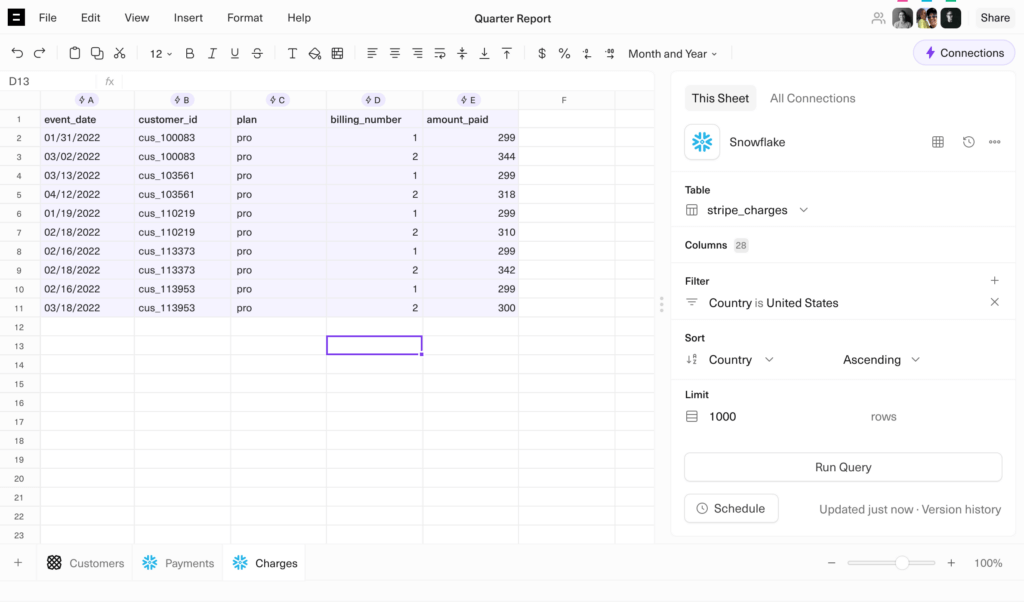 It's 10x easier to build & automate analyses with native data connections, from cohort reports to funnel reviews to board decks.
Don't waste your time learning another data tool. Equals works just like Excel and Sheets — you already know how to use it.
From investors to future employees, they're going to need to know how analyses came to be. Always be able to show your work.
Visit equals.app
Merge
Merge is a single API to add hundreds of integrations to your app.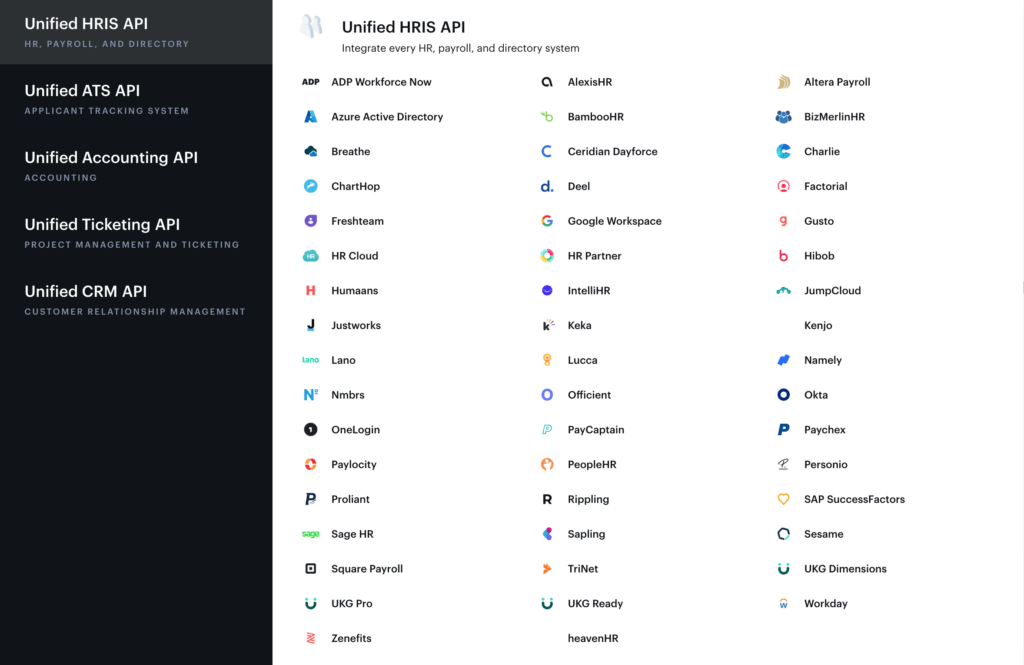 Your users authorize integrations via a drop-in component in your app.
Build in-app functionality powered by data continuously synced for each integration and connected customer account.
Hundreds of integrations and counting.
Common Models provide normalized, constantly synced data for each category of integrations.
Visit merge.dev
PostHog
Posthog has a suite of product and data tools. Built on the modern data stack.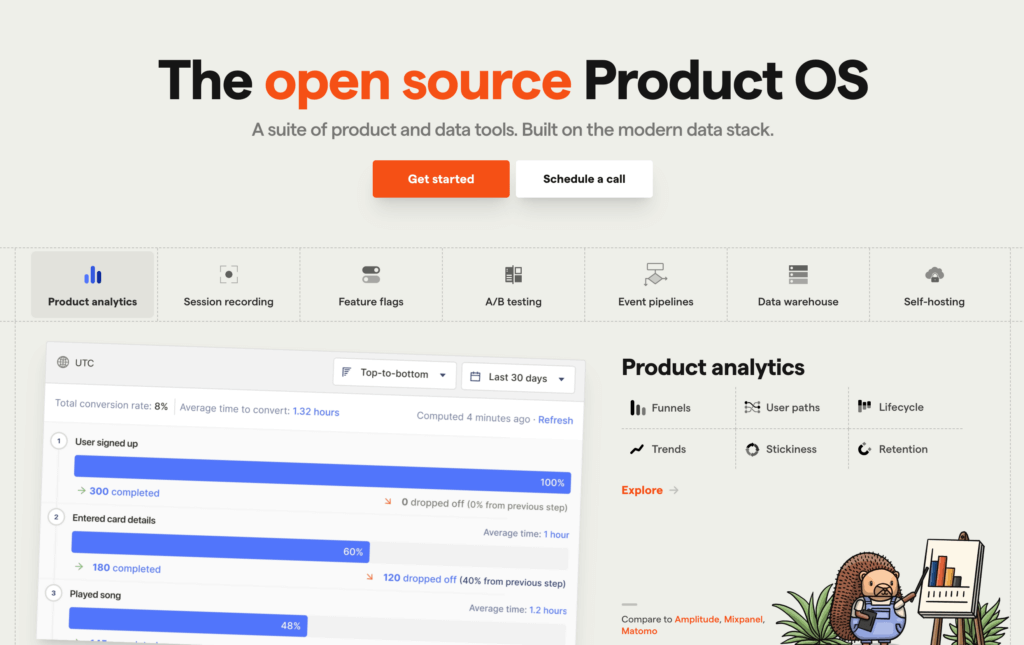 Product Analytics
Sessions Recorder
Feature Flags
A/B Testing
Event Pipeline
Data Warehouse
Self-Hosting
Visit posthog.com
Column
Column is "The developer infrastructure bank". The only nationally chartered bank built to enable developers and builders to create new financial products.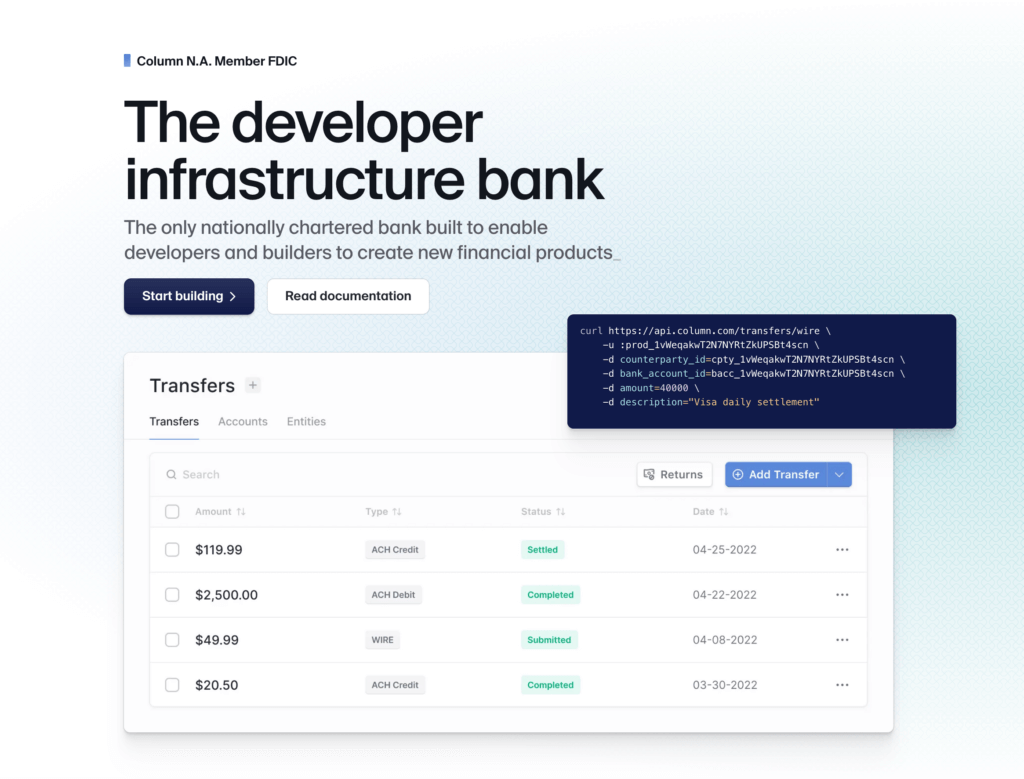 Column
Allows you to get to the bare metal. We are a bank made for developers and have built our own core, ledger, and data model to power your unique use case at any scale.
The power of nationally chartered banking is the lightest format possible.
Leverage Column's direct connection to the Federal Reserve. Pull and push money to any bank account and create flexible FDIC insured accounts.
Visit column.com
Resend
Resend is the best API to reach humans instead of spam folders. Build, test, and deliver transactional emails at scale.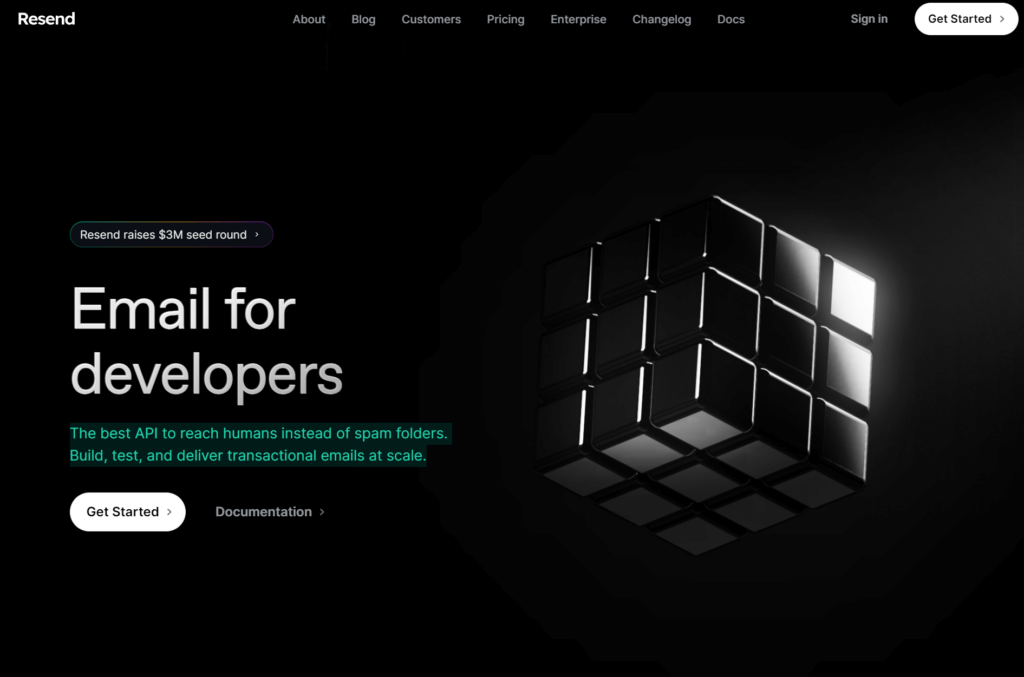 Proactive blocklist tracking

Be the first to know if your domain is added to a DNSBL, such as those offered by Spamhaus with removal requests generated by Resend.

Faster Time to Inbox

Send emails from the region closest to your users. Reduce delivery latency with North American, South American, and European regions.

Build confidence with BIMI.

Showcase your logo and company branding with BIMI. Receive guidance to obtain a VMC – the email equivalent of a checkmark on social media.

Managed Dedicated IPs

Get a fully managed dedicated IP that automatically warms up and auto-scales based on your sending volume, with no waiting period.

Dynamic suppression list

Prevent repeated sending to recipients who no longer want your email and comply with standards like the CAN-SPAM Act.

IP and domain monitoring

Monitor your DNS configuration for any errors or regressions. Be notified of any changes that could hinder your deliverability.

Verify DNS records

Protect your reputation by verifying your identity as a legitimate sender. Secure your email communication using DKIM and SPF.

Battle-tested infrastructure

Rely on a platform of reputable IP's used by trustworthy senders with distributed workloads across different IP pools.

Prevent spoofing with DMARC.

Avoid impersonation by creating DMARC policies and instructing inbox providers on how to treat unauthenticated email.
Visit resend.com
Linear
Linear is the new standard for modern software development. Streamline issues, sprints, and product roadmaps.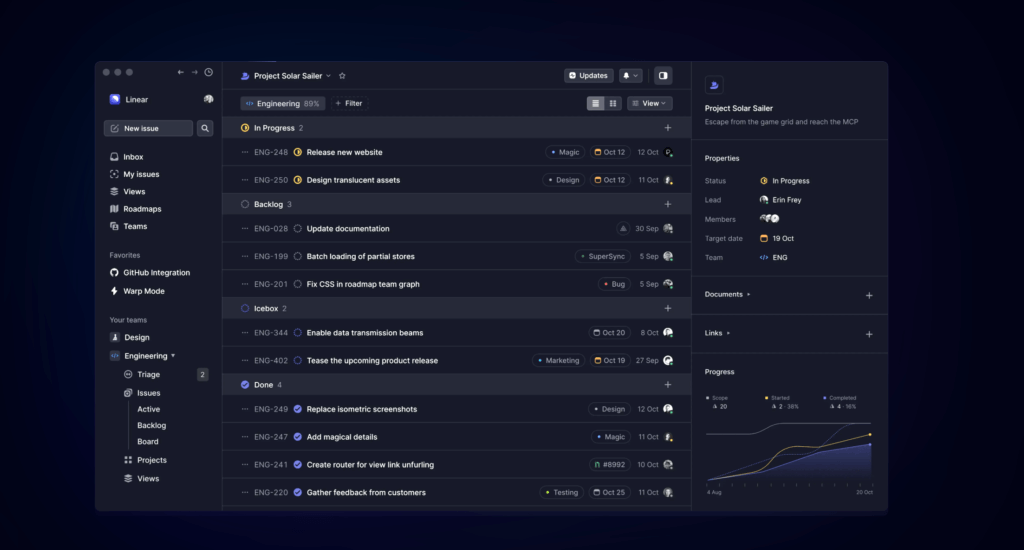 Plan

Linear is a tool to remove barriers. Powerful yet simple to use, it helps you to plan ahead, make better decisions and execute faster. You don't have to come up with best practices for how to use Linear — we already built them directly into the product.

Progress

Linear is built in pursuit of high-performance. Automatic workflows and powerful Git integrations create focus and routine. Customizable views and filters let you keep track of your work from any angle. Everything is streamlined so that you can progress with full speed, full flexibility and full visibility.

Collaborate

A new center of gravity for productivity and collaboration. Linear keeps everyone in your organization aligned and working without friction. Engineers, designers, product managers and peers — all collaborating in one tool.

Analyze

Building truly great products is both art and science. It's part intuition and part data. To help with the data part, Linear offers a variety of advanced reporting and analytics features.
Visit linear.com