Since the launch of GPT3 the creative world will suffer a big transformation. All creatives will need to up their game and start learning and using the AI tools available in the market. Make sure you leverage some free ai tools available right now.
Benefits of using a free ai tools in 2023:
🏃‍♂️ Speed and efficiency: AI creative tools can potentially save time by automating certain tasks or processes, allowing you to focus on other aspects of your work.
🎯 Increased accuracy: AI tools can analyze data and make decisions based on that analysis, which can lead to more accurate results. Enhanced creativity: AI tools can provide new ideas or perspectives that may not have been considered before, potentially leading to more creative solutions.
🕵️‍♂️ Personalization: AI tools can analyze user data and preferences to create personalized content or recommendations, which can be beneficial for both creators and consumers.
🌍 Scalability: AI tools can handle large amounts of data and can be trained to perform a wide range of tasks, making them well-suited for scaling creative projects. It's important to note that AI creative tools are not a replacement for human creativity and artistic expression. Rather, they can be used as a supplement to traditional creative tools, potentially enhancing the creative process and helping to generate new ideas.
Types of free ai tools:
You can expect multiple types of generator, here are some examples:
Text to text, image, audio or video;
Image to text, video or 3d;
Video to audio or transcript
With generators, you can take an input, whether it's manual or automated, and get a specific output. Explore the amazing potential of generative AI with us!
To learn more about visit the Generative AI section.
Here is the list of the top free ai tools for 2023:
Chat GPT
Dall-E 2
Copy.ai
Tome
Simplified AI
Quillbot
Rytr
Lumen5
Murf
Fireflies
Descript
Runwayml
ChatGPT win the number 1 stop for the: Top free AI tools 2023
ChatGPT is a variant of the GPT (Generative Pre-trained Transformer) language model specifically designed for conversational language generation. It was trained on a large dataset of human-human conversation transcripts and is able to generate human-like responses to a given prompt.
ChatGPT is able to understand and respond to context, and can generate responses that are appropriate for the topic and tone of the conversation. It can also generate responses that are appropriate for the roles of the participants in the conversation, such as responding appropriately to questions from a customer or providing helpful information to a user.
One of the key features of ChatGPT is its ability to generate coherent and coherently-structured responses, making it well-suited for use in chatbots and other conversational systems. It can also be used for language translation, content generation, and other natural language processing tasks.
Overall, ChatGPT is a powerful tool for generating human-like responses in a conversational setting, and has the potential to significantly enhance the capabilities of chatbots and other language-based systems.
The learn how to use a prompt visit: How to prompt ai.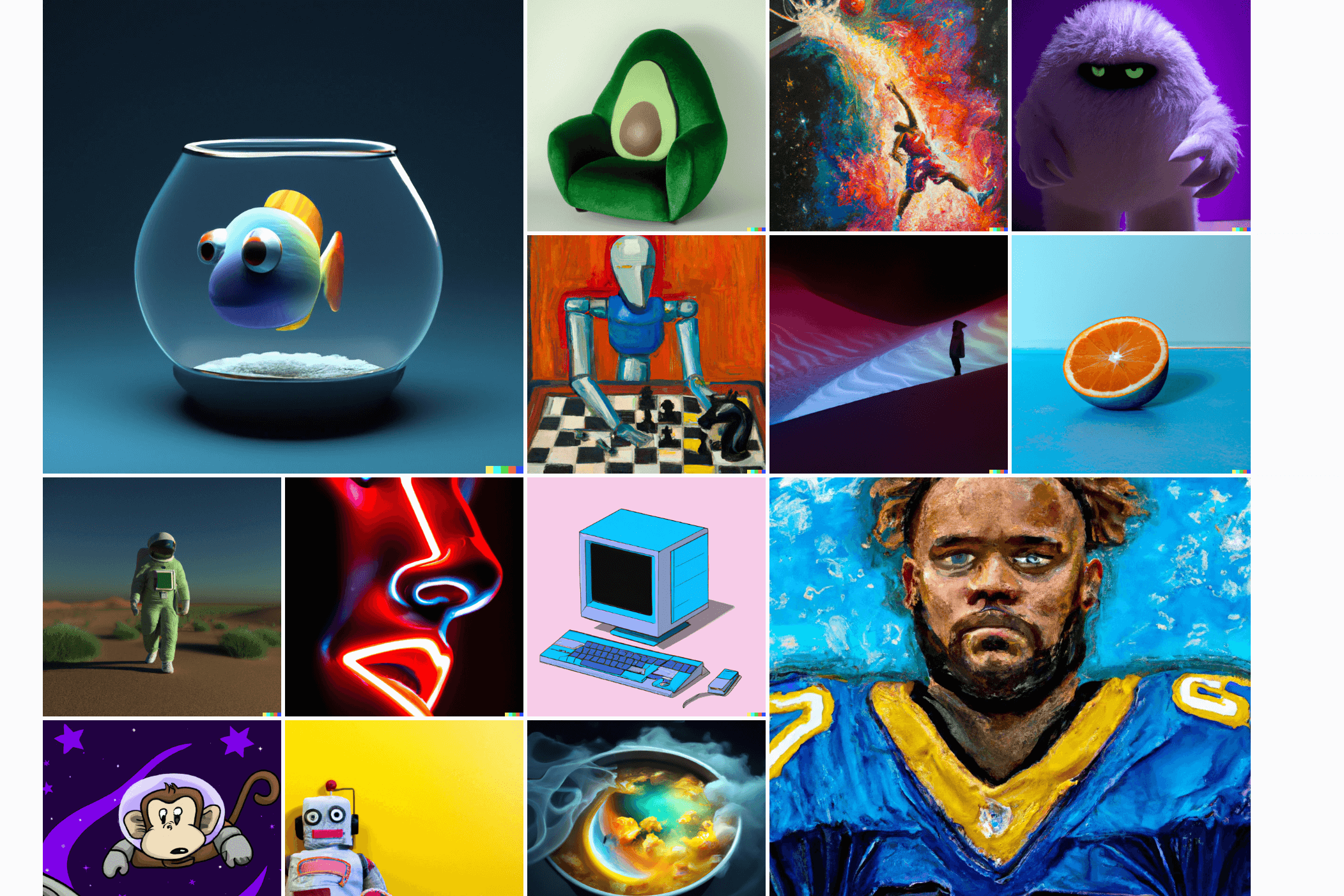 DALL-E 2 is a large-scale neural network created by OpenAI that is capable of generating high-resolution images from text descriptions, using a technique called neural machine translation.
The network is trained on a dataset of text-image pairs and learns to generate images that correspond to the given text descriptions. DALL-E 2 has significantly improved upon the original DALL-E network, which was released in January 2021. Some of the improvements include the ability to generate higher resolution images and to handle longer text descriptions.
One of the main goals of DALL-E 2 is to demonstrate the capabilities of neural machine translation and the potential for generating images from text descriptions. The network has been used to generate a wide range of images, including landscapes, animals, objects, and even abstract concepts.
Overall, DALL-E 2 is a powerful tool that demonstrates the capabilities of modern machine learning techniques and the potential for generating images from text descriptions.
Copy AI is a revolutionary content creation tool that uses the groundbreaking GPT-3 platform to produce long form content that sounds like it was written by a human. With more than 175 billion machine learning parameters, GPT-3 is the largest neural network ever created, and it's what makes Copy AI so powerful. But that's just the beginning.
Copy AI is an all-in-one solution for digital marketing, with a wide range of features that can help you create and manage campaigns with ease. Need to brainstorm ideas for your next social media post? Copy AI has you covered. Struggling with writer's block? Let Copy AI's tools give you a boost. And when you're ready to get your message out there,
Copy AI can produce nearly unlimited content with just a few clicks. But it's not just for professionals. With a smooth onboarding experience and a simple interface, anyone can use Copy AI to create high-quality content for personal projects, like letters, journals, and CVs. So whether you're a marketing professional looking to streamline your campaigns or just someone who loves to write, Copy AI has something for you. Try it out today and see the magic for yourself!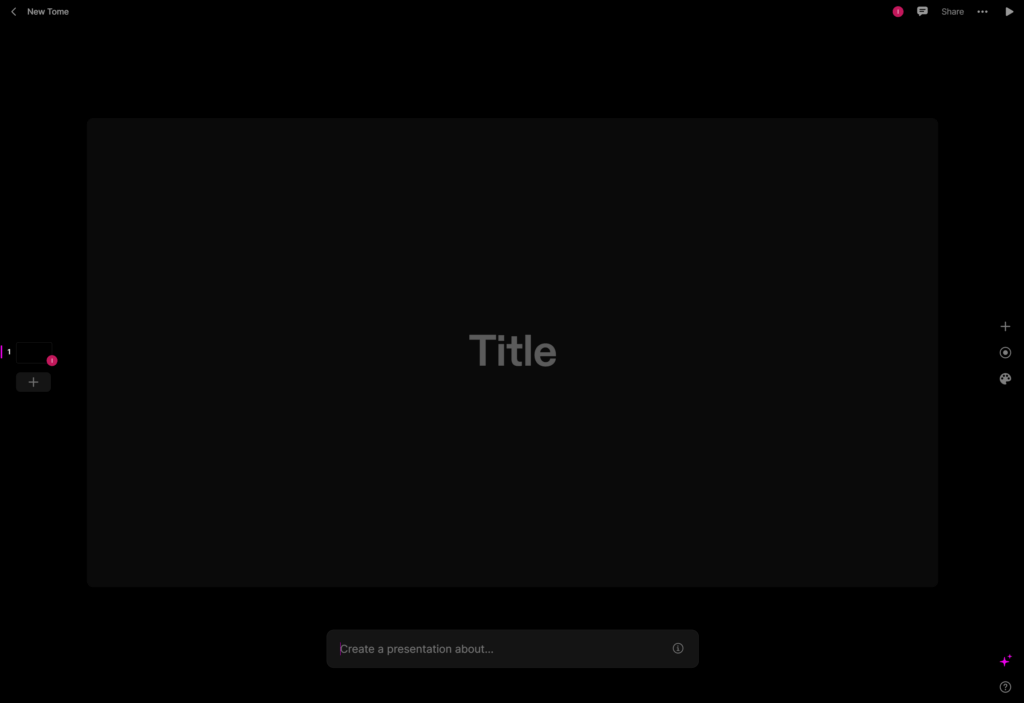 Honorable mention for the underdog: Top free AI tools 2023
With Tome, you have the ultimate tool for creating compelling narratives and bringing your ideas to life. Imagine being able to generate entire stories from scratch or adding new pages to your content in just seconds, simply by typing in a prompt. And with the DALL·E 2 tile, you can create custom images that perfectly capture the essence of your vision.
But that's just the beginning. Tome is much more than just text and images. You can easily share prototypes, incorporate 3D renderings, trim videos, and even embed live content from the web. The drag-and-drop creation and one-click themes make it easy to focus on your idea, while Tome takes care of the rest.
And with live, interactive content from the web that can be easily embedded in one place, plus live integrations with popular tools like Figma, you can truly bring your story to life. You can even add a personal touch through native video recording, whether it's in real-time or async. Sharing your tome is a breeze, with just one click.
Tomes are designed to fit any device, you can be sure that your viewers will have a seamless experience, no matter where they're viewing. The Tome iOS app also allows you to work on your tome wherever you are, with seamless syncing across devices. So why wait? Start creating powerful stories with Tome today!
Simplified AI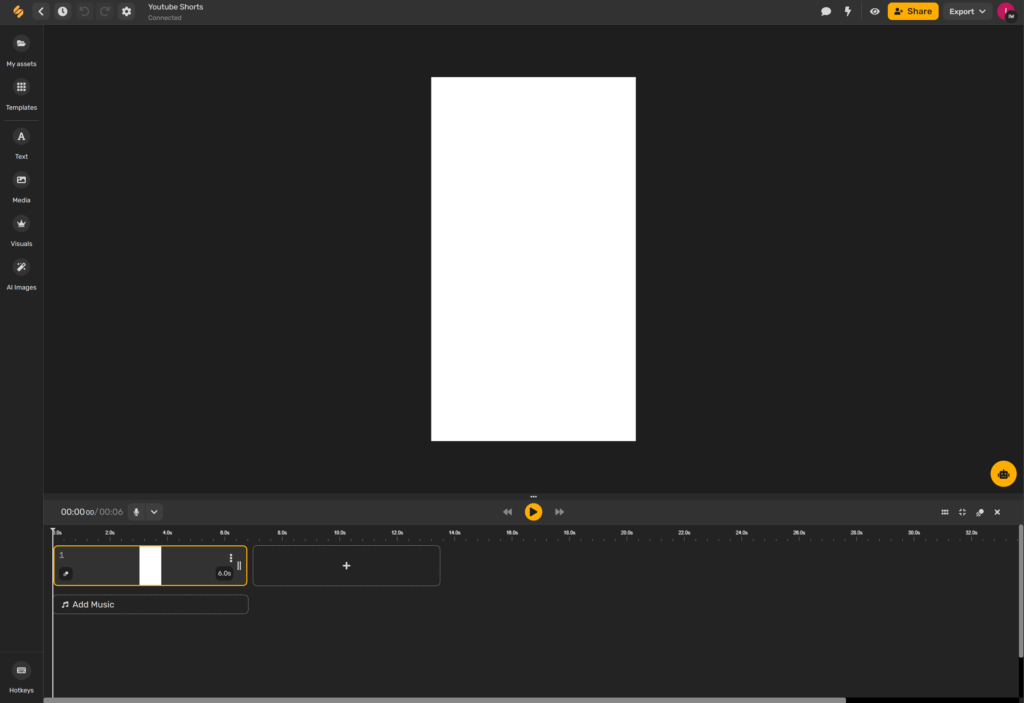 Say goodbye to writer's block and hello to quality content with Simplified's AI Content Generator! Create copy for business bios, Facebook ads, product descriptions, emails, landing pages, YouTube descriptions, and taglines in 10+ tones and 30+ different languages – all easily and quickly with 50+ AI templates!
Need longer-form content? The Long Form Writer has you covered. Create blogs, articles, and even books in a flash with this AI writing tool. Plus, improve your copy with the article rewriter, sentence expander, or AI paragraph generator.
Don't forget the Copy AI Rewriter Tool – perfect for optimizing your copy for uniqueness and readability! Rewrite Facebook and Instagram captions, quotes, descriptions, marketing materials, and website content and keep the same overall meaning.
Collaborate and plan with your team in real-time with Simplified! Connect your social media channels and schedule posts with the content calendar, or publish directly from the app. Get ahead of the game by planning thousands of videos weeks or months ahead of time.
Quillbot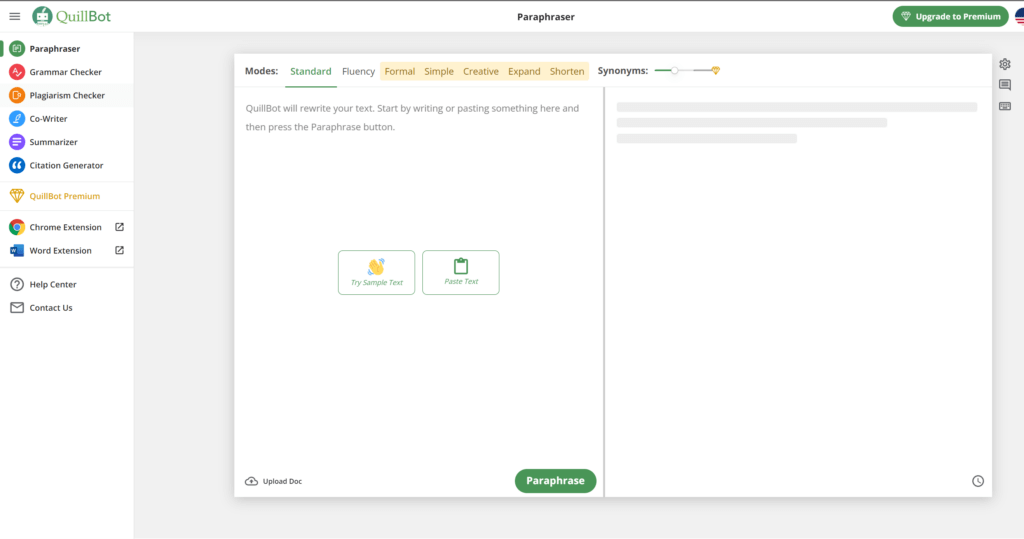 Best for protecting for plagiarism: Top free AI tools 2023
Quillbot is an AI-powered paraphrasing and grammar checking tool that has evolved over the years to include many other useful features. Founded in 2017 by Anil Jason, Rohit Gupta, and David Silin, Quillbot is a great option for authors who need to edit their work quickly and affordably. It offers a powerful paraphrasing tool, a grammar checker, a plagiarism checker, a co-writer, a summarizer, and a citation generator.
Quillbot makes editing your work easier and faster with its AI-driven technology. Its paraphrasing tool helps you quickly rearrange your word order and substitute words for others, while its grammar checker thoroughly inspects your document for typos, spelling mistakes, and other grammatical issues. The other features, such as the co-writer, summarizer, and citation generator, bring all the tools together to make writing a breeze.
In addition to its powerful features, Quillbot is also incredibly affordable when compared to other AI tools, like Jasper AI. This makes it an ideal choice for authors who need an AI tool that is both powerful and economical. On top of that, Quillbot is constantly adding new features to make the editing process even more efficient.
Therefore, if you're looking for a powerful AI tool that is also affordable, Quillbot is definitely worth considering. With its many features, excellent pricing, and frequent updates, it's sure to be the perfect tool for your writing needs.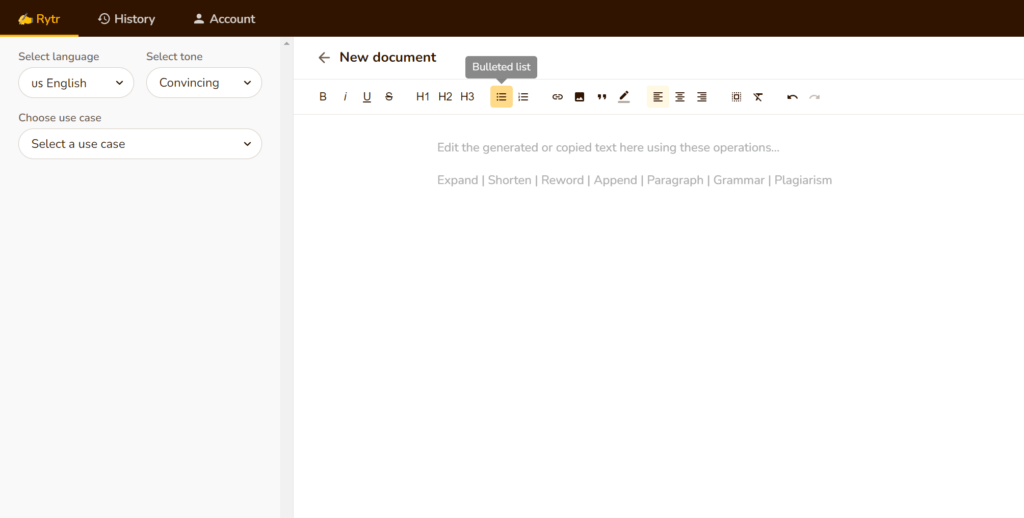 Rytr's mission is to make AI-assisted writing easier and more efficient, while providing content that is of the highest quality.
They strive to be the go-to writing assistant for everyone, regardless of their writing level. The AI-driven writing assistant is simple, intuitive and easy to use. It features a range of features that can help any writer, from text-to-speech capabilities, to grammar checking and advice from expert writers. They also offer a range of integrations with popular writing apps and tools, allowing users to use the writing assistant with their favorite writing tool.
They are committed to ensuring the writing assistant is constantly improving and evolving, to meet the needs of their customers. The team of experts is constantly working on new features and improvements to make the writing assistant the best it can be. They are always looking for feedback from their customers, so they can make the best use of their AI-driven technology.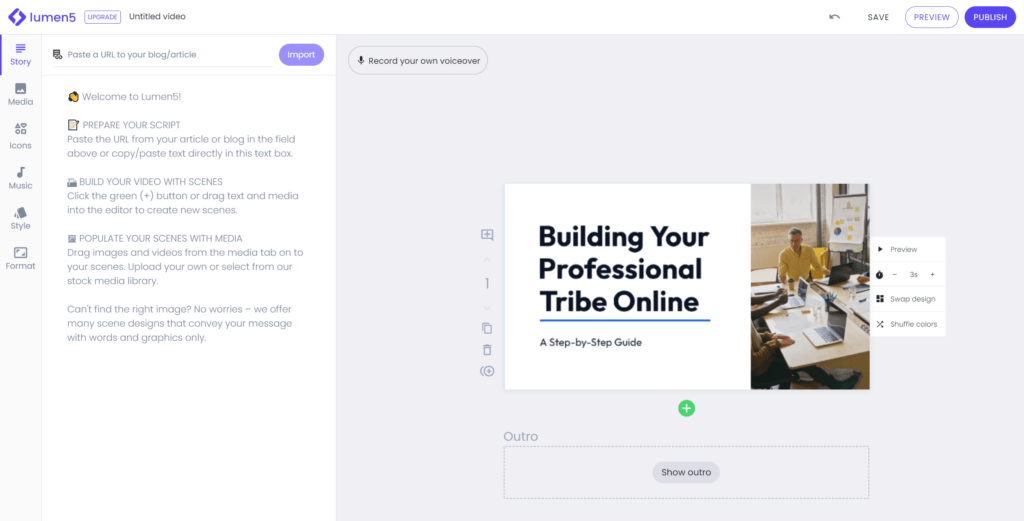 Lumen5's mission is to simplify the video production process and enable anyone to create amazing videos in minutes. They have developed a platform that is equipped with all the tools and resources needed for creating powerful videos for social media, stories, and ads. With their built-in library of millions of stock footage, photos, and soundtracks, users have access to everything they need without ever leaving the platform.
Video content has become the most popular form of storytelling in recent years, but the tools available to create these videos are slow to adapt to this new demand. Most videos require a team of experts and the process is complicated, time-consuming, and expensive.
That is why Lumen5 is taking a unique approach to video production by utilizing Machine Learning to automate the tedious tasks associated with video editing. Their algorithms determine the duration of each scene, position text to avoid covering important subjects, emphasize and highlight important keywords, and generate a credit scene for copyright compliance.
With Lumen5, anyone can create amazing videos quickly and easily. Their mission is to make video production accessible to everyone and equip users with the tools and resources needed to tell their story in a visually engaging way.
Best for podcasts: Top free AI tools 2023
For years, voice over projects were an expensive and tedious endeavor. But now, with Murf AI's revolutionary voice generator, creating high-quality voiceovers is easier than ever before. Rather than investing in expensive recording equipment, renting a studio, and hiring a professional audio editor, you can now just use Murf AI's online tool to generate natural-sounding voices in just a few minutes.
The Murf AI voice generator uses advanced AI algorithms and deep learning to create life-like synthetic voices that mimic the tonalities and prosodies of human speech. It's the perfect tool for anyone looking for a quick and easy way to generate realistic voiceovers without having to spend hours in a studio.
Murf AI's voice generator is the perfect solution for anyone looking to create professional-quality voiceovers without having to invest in expensive recording equipment and hiring an audio editor.
With Murf AI's revolutionary technology, you can now generate realistic voices in mere minutes, from the comfort of your own home. It's the perfect solution for content creators, marketers, and businesses of all sizes.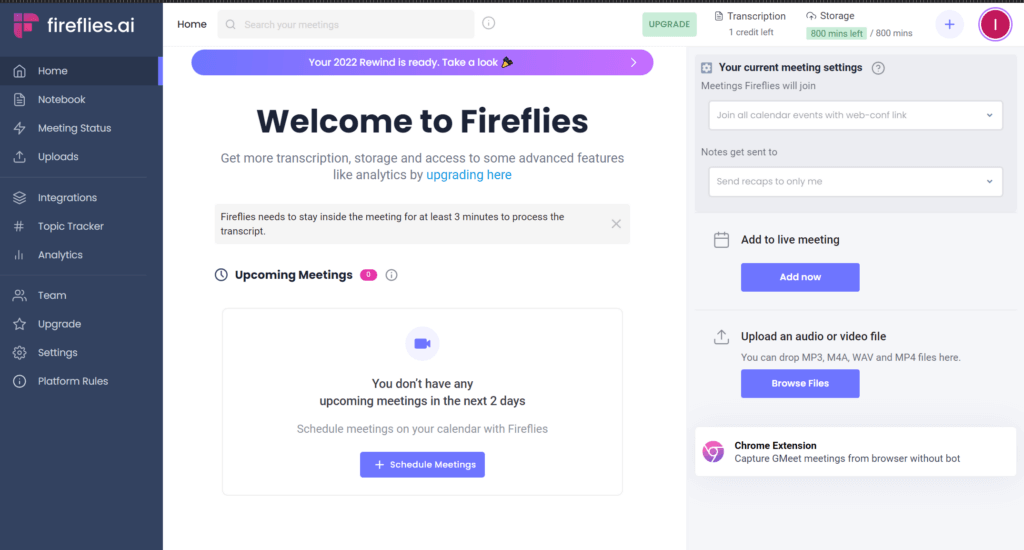 Fireflies provides a central place for all your voice conversations. With Fireflies, there is no need to worry about taking notes and wasting time. Fireflies makes it easy to record, transcribe, and organize all your team's meetings in one place.
Easily share recaps & transcripts afterwards and keep track of what your customers, candidates, and team are actually saying. Fireflies also allows you to automate your workflows by integrating apps and CRMs with Fireflies, and easily get your files transcribed using in-app upload, zapier or api. This simplifies the process of coaching and onboarding by allowing you to leave comments & flag important parts of calls, reducing the need for repeat meetings and helping onboard & coach teammates at 2x the speed.
Fireflies provides an easy way to store and share your voice conversations, making it the perfect solution for teams that need a central place for their voice conversations. Fireflies makes it easy to record, transcribe, and organize all your team's meetings in one place. With Fireflies, you can easily share recaps & transcripts afterwards and tune into what your customers, candidates and team are actually saying. Fireflies also helps you to automate your workflow with in-app upload, zapier or api integration, simplifying the process of coaching and onboarding.
You can leave comments & flag important parts of calls, reducing the need for repeat meetings and helping onboard & coach teammates at 2x the speed. With Fireflies, you can easily take notes and share the transcripts with your teammates afterwards.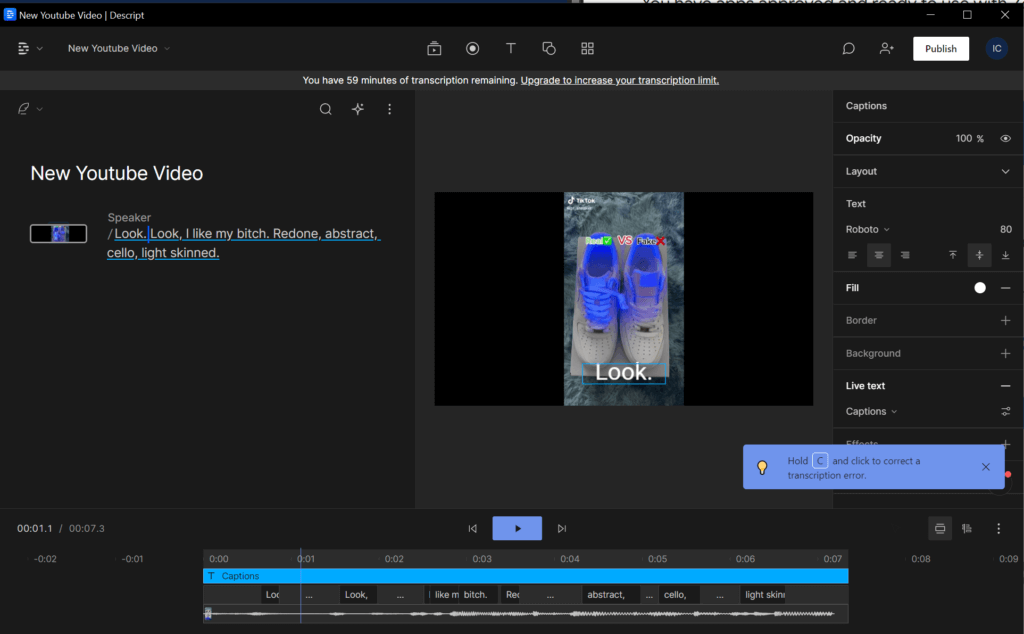 Best transcript: Top free AI tools 2023
Descript is revolutionizing the way video is created and shared. They are striving to make video a staple of every communicator's toolkit, just like docs and slides. Their AI-powered features and intuitive interface make Descript an easy-to-use platform for creating stunning videos for YouTube and TikTok channels, podcasts, and businesses.
Their team consists of 100 people and growing and they are backed by some of the top venture capital firms such as OpenAI Startup Fund, Andreessen Horowitz, Redpoint Ventures, and Spark Capital, as well as individual investors. The team has worked hard to make Descript the ultimate video editing platform and they are excited to see what the future holds. Descript was founded with the mission to make creating videos fast and accessible to everyone.
To learn more about how Descript got started, they wrote a post about it. They are looking for more talented people to join their team and help them continue to make Descript the go-to platform for creating videos. If someone is interested in working here, they can visit their careers page. They want to make video a part of everyone's toolkit, so that anyone can create stunning videos that are engaging and captivating.
Their AI-powered features and intuitive interface make Descript the perfect platform for creating videos quickly and easily. They invite everyone to join them on their mission to make video an essential part of every communicator's toolkit and be part of the Descript family.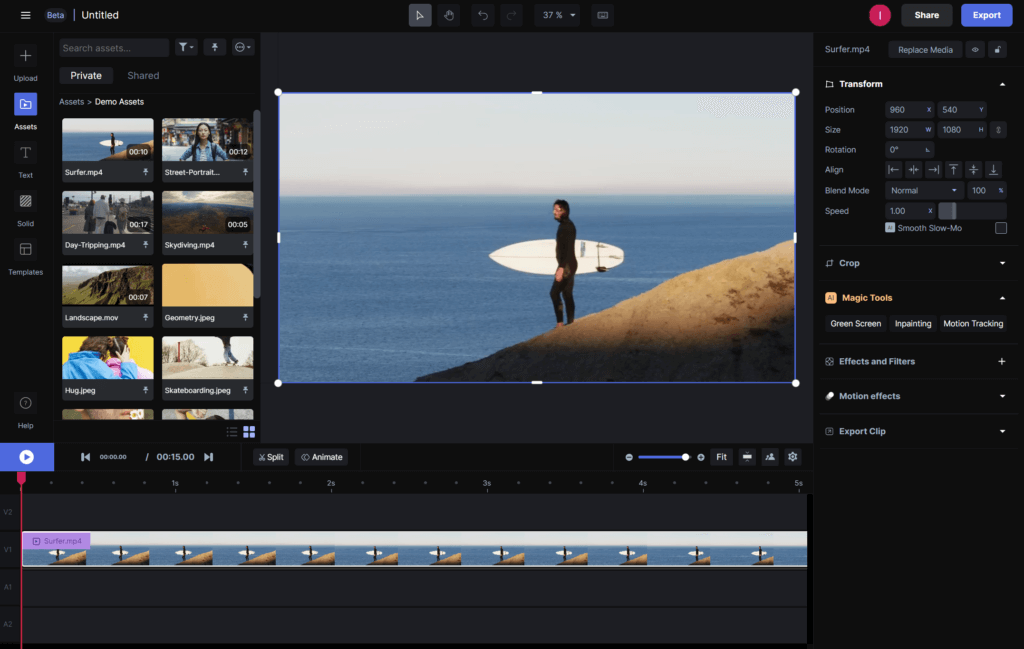 Best multi purpose: Top free AI tools 2023
At Runway, they are passionate about pushing the boundaries of creativity and making content creation accessible to everyone. They approach this mission with relentless optimism and an unwavering belief that it is possible to make the impossible become reality. Their team is made up of creative, open-minded, and caring individuals from a variety of backgrounds.
They are dedicated to building an incredible team and incredible things. They strive to invent the future and optimize for creating new value in the world. They don't settle for small improvements, but instead seek to create something entirely new. They are confident that, even when faced with overwhelming challenges, their team can rise together to solve them. To make their mission a reality, they emphasize a fast-paced learning environment. They embrace trial and error and prioritize learning something new every day.
They remain humble and strive to build their product with the same values that are mirrored in their team. Inclusion, transparency, and respect for one another guide them in the decisions they make, and their commitment to their users drives them forward.
At Runway, they are determined to make the impossible possible and move creativity forward. Their team is united in this mission and they are excited to see where their journey will take them. They invite others to join them in this mission, and together, they will create something incredible.